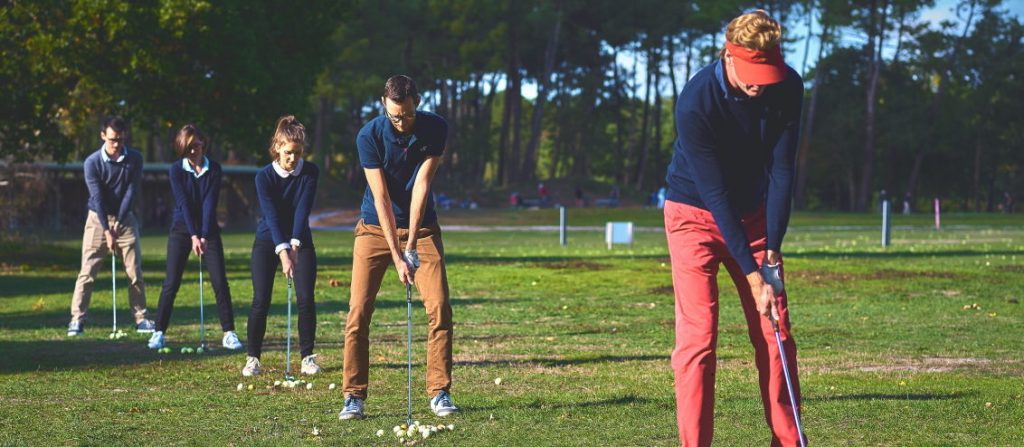 Qualified instructors to help you work on your game
The coaching team at Golf Bastide de la Salette is made up of seven independent state-qualified instructors. Whether you're looking for an individual or group golf lesson, our team is here to help. 
Having started golf late, I was incredibly fortunate to be taken under the wing of Benoit Ducoulombier as his "student assistant". He mentored me until I qualified as a golf instructor.
After 25 years of teaching golf to all abilities from beginners to professionals, and all age groups from children to seniors, I am able to adapt my coaching to each student's needs and wants.
Why do you recommend Golf Bastide de la Salette?
I recommend this golf course because it offers a great opportunity to evaluate and improve both your psychological and tactical game and your ability to manipulate the ball to meet the different challenges the golf course presents. Here, the mind plays a pivotal role. You have to think about and analyse every stroke, stay calm and patient and, above all else, not get carried away and play any old stroke, as you'll instantly be penalised. This golf course will allow you to try out every different type of golf stroke possible, in both your long game and your short game.
What is your favourite hole on the golf course?
My favourite hole on this golf course is the twelfth. It's a downhill par 3, so you can dominate the hole from the start. Surrounded by forest from the tee box to the green, the scenery is stunning. The shallow green is very well defended on either side. Depending on the position of the flag and the wind conditions, several stroke solutions are possible. It's up to you to choose the best one for your circumstances.
Bruno Cloutrier

State-qualified golf instructor

Facebook: Bruno-cloutrier-coach-de-golf
A state-qualified instructor since 1993, I joined the coaching team at Golf Bastide de la Salette at the beginning of my professional career. I am passionate about my job and offer a variety of individual and group coaching packages for adults and children.
Why do you recommend Golf Bastide de la Salette?
I recommend Golf Bastide de la Salette for the quality of its training facilities, which allow me to take a fun, tailored approach to coaching. I also love the 18-hole golf course surrounded by greenery in the heart of Marseille's 11th arrondissement. There's nothing else like it in the region.
Julien Fritz

State-qualified golf instructor

Facebook: https://www.facebook.com/julien.fritz.986
After starting off as a professional tennis player, my passion for golf took over and today I am proud to be able to teach this fascinating sport to high-level players and beginners of all ages. I adapt my teaching method, approach and specific technical tools to the goals, abilities and body shape of each student.
Why do you recommend Golf Bastide de la Salette?
I recommend Golf Bastide de la Salette in Marseille because, despite having played on this course for many years, I am still blown away by its setting and magnificent views every time I play, and by the fact that each hole presents a different challenge.
What is your favourite hole on the course?
My favourite hole is the seventh because it's a long par 4 with a slight dogleg, surrounded by tall trees. With such beautiful nature all around you, it's easy to forget you're in the middle of Marseille. From a golf point of view, it's one of the "flattest" holes on the course, requiring technical skill and stroke adjustment.
As a golf instructor at Golf Bastide de la Salette in Marseille for more than 20 years and a member of the PGA, my coaching is based on teaching students a simple movement, tailored to the individual.
Simplicity is the common denominator. Whether you're a beginner or a very high-level player, it's the key to easily maintaining a regular trajectory.
Like I do with fittings, I use modern tools like the TrackMan and high-definition video for this.
I discovered golf quite late at the age of 17, but it very quickly became a genuine passion. I then taught at Golf de Frégate for 10 years, where I was able to set up a golf academy.
In 2000 I was involved in creating Golf de Marseille Borély and designed the 9-hole compact course. In 2013 I joined the team at Golf Bastide de la Salette, where I've been coaching full-time ever since.
Why do you recommend Golf Bastide de la Salette?
Golf Bastide de la Salette offers an exceptional, unspoiled setting with different varieties of plants and trees like hundred-year-old oaks, pines and cedars that define the contours of the golf course. With its panoramic view of the velodrome, Sainte-Baume mountains and the sea, golf and nature lovers can't help but love it.
What is your favourite hole on the course?
The  new 11th hole: amazing! Don't go by its looks—it's very technical!
Rudy Lucas

PGA member instructor

Facebook: https://www.facebook.com/rudy.lucas.3133
Instagram: https://www.instagram.com/rudy.lucas/?hl=fr
Graduate of CREPS de Montpellier in 1998. PGA France member since 1996. Short game master class. Level 2 TrackMan certification. I've been coaching at Golf Bastide de la Salette since 1999 with passion and energy. Both of these qualities are essential for developing students' golfing prowess. The aim of my coaching is to meet every student's needs. In 2013 I added the TrackMan technological tool, the leading launch monitor, to my coaching repertoire. I offer a complete programme of instruction to create the best possible conditions for play and help my students make sound progress. Through my continued investment in the junior players, I am training the competitors of the future.
What is your favourite hole on the course?
In my opinion, the 2nd hole sums up what the Golf Bastide de la Salette golf course is all about, as it has a stunning view and is an enjoyable hole to play whether you're an aggressive or cautious player.
I started playing golf as a junior and 40 years later, my passion is as strong as ever. A qualified instructor since 1985 and teacher since 2000, I completed my training at various golf academies in the United States.
What is your favourite hole on the course?
The 7th hole, as it's challenging and quite long. This is because it's uphill and has a green with a double plateau, making it harder. It also has breathtaking scenery.
Individual and group golf lessons, golf clinics and golf introductory sessions for adults
The 7 state-qualified golf instructors at Golf Bastide de la Salette offer different types of lessons, including individual golf lessons, group golf lessons and golf introductory sessions. Their teaching methods are informative and fun for all abilities. Progress and pleasure guaranteed!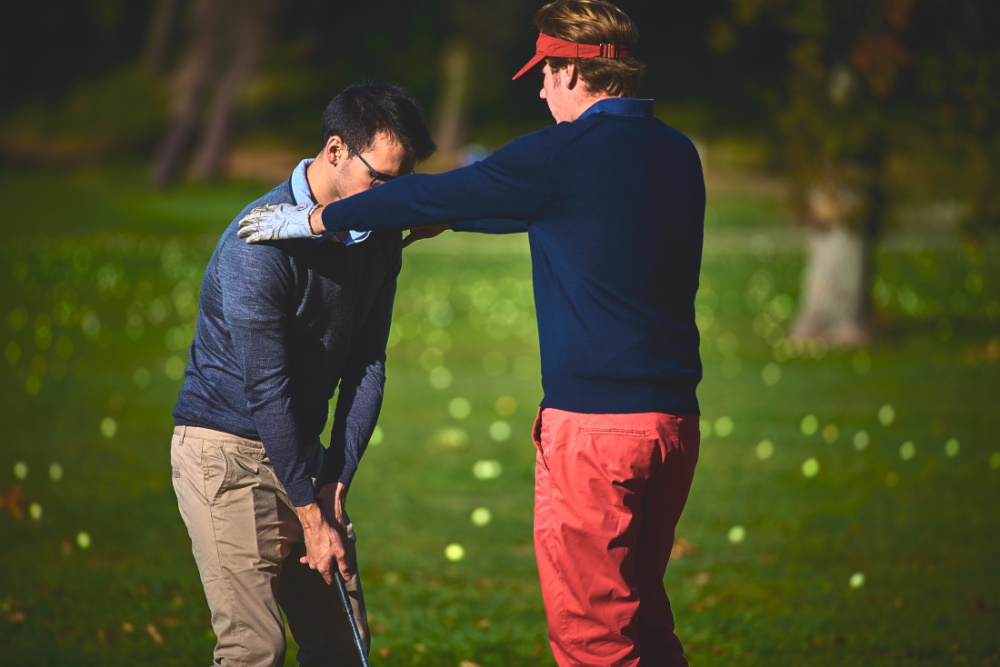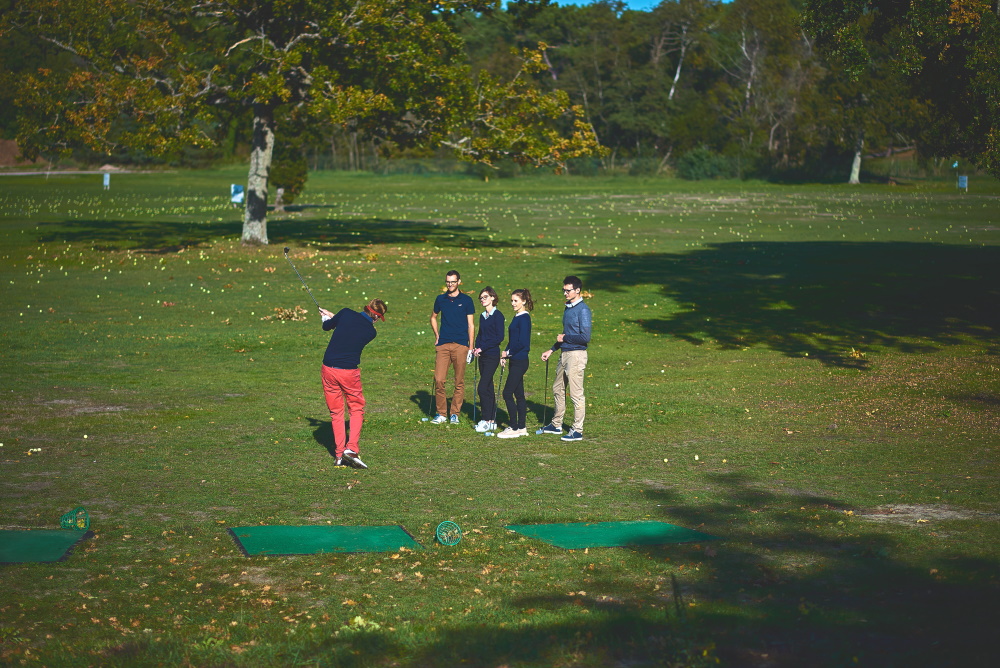 Adult individual golf lessons
Prices
30 minutes

Prices

€30

1 hr

Prices

€50

5 hrs

Prices

€230
Adult group golf lessons
Prices
1-hr flat rate for 2 people

Prices

€60

1-hr flat rate for 3 people

Prices

€75
Adult golf clinic
Prices
10 hrs

Prices

€220
From 3 to 6 people, Monday to Friday, 2 hours of lessons per day.
Adult golf initiation
Prices
1 hr

Prices

€74

1½ hrs

Prices

€111
Maximum of 15 people per group, balls and clubs provided.
Golf for children in Marseille
By playing golf, children learn about self control, sharing, respecting rules and following instructions while having fun in a natural setting. The golf instructors at the Golf Bastide de la Salette Golf Academy offer different coaching packages throughout the year as well as holiday clinics, the perfect way to teach children about environmental responsibility and biodiversity in a fun and sporty way.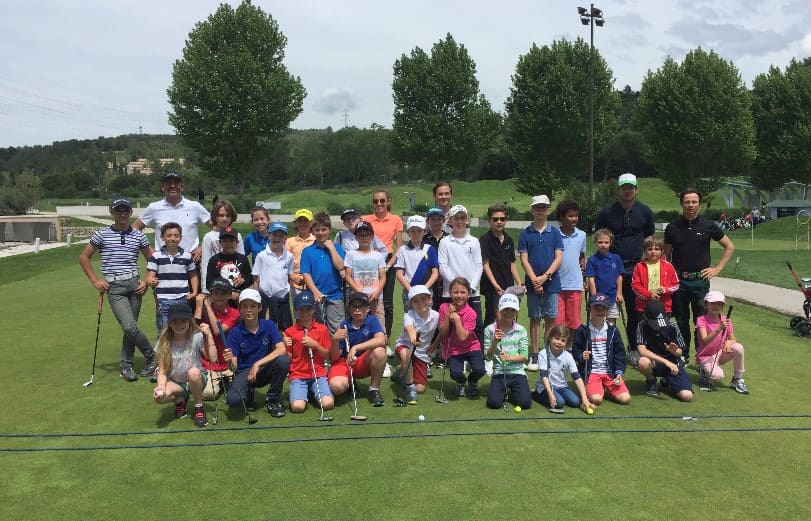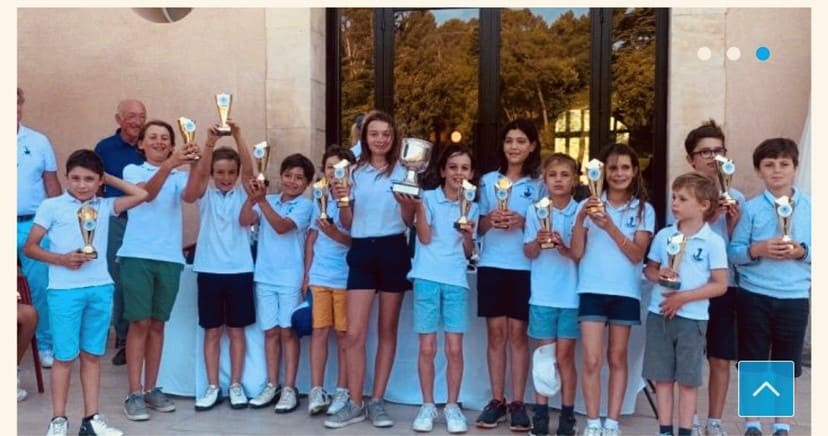 The Bastide de la Salette Golf Academy has been one of the most dynamic and successful golf academies in France for several years. It has been run and managed by our 7 golf instructors for more than 20 years.
Lessons are held from September to June, outside of school holidays, based on a minimum of thirty sessions of one and a half hours each on average. Between 250 and 300 children aged from 4 to 18 are taught by our golf instructors, who divide them into groups based on age and ability. Their fun coaching sessions are tailored to each group, allowing the students to learn while enjoying themselves.
A free ranking tournament is organised for all abilities on the first Monday of the school holidays over 9 or 18 holes. The tournament is run by the golf instructors and by volunteers from the Association Sportive. It isn't mandatory, but it's a great opportunity for the children to come together at a sporting event in a friendly atmosphere.
Bastide de la Salette Golf Academy Ranking
The Golf Academy is ranked in first place out of over 600 clubs in terms of national development, in recognition of how many children have improved their ranking and by how much, and fifth in terms of national performance, in recognition of its results in federal tournaments like youth grand prix events and the Championnats de France at a team and individual level.
The year-round fee for the Golf Academy is €380. This excludes the French Golf Federation handicap certificate (€23) and membership of the Association Sportive (€25).
Balls, clubs and initial equipment can be borrowed at the start of the year. You can then buy your clubs, bag and balls from the proshop or from any specialist sports shop.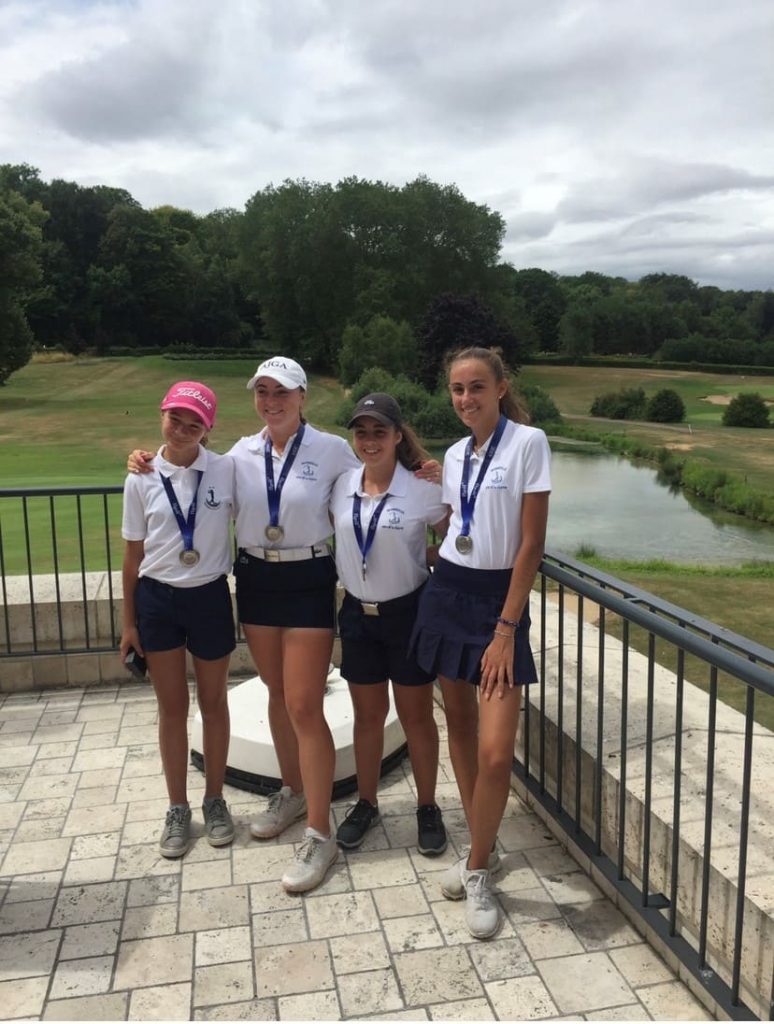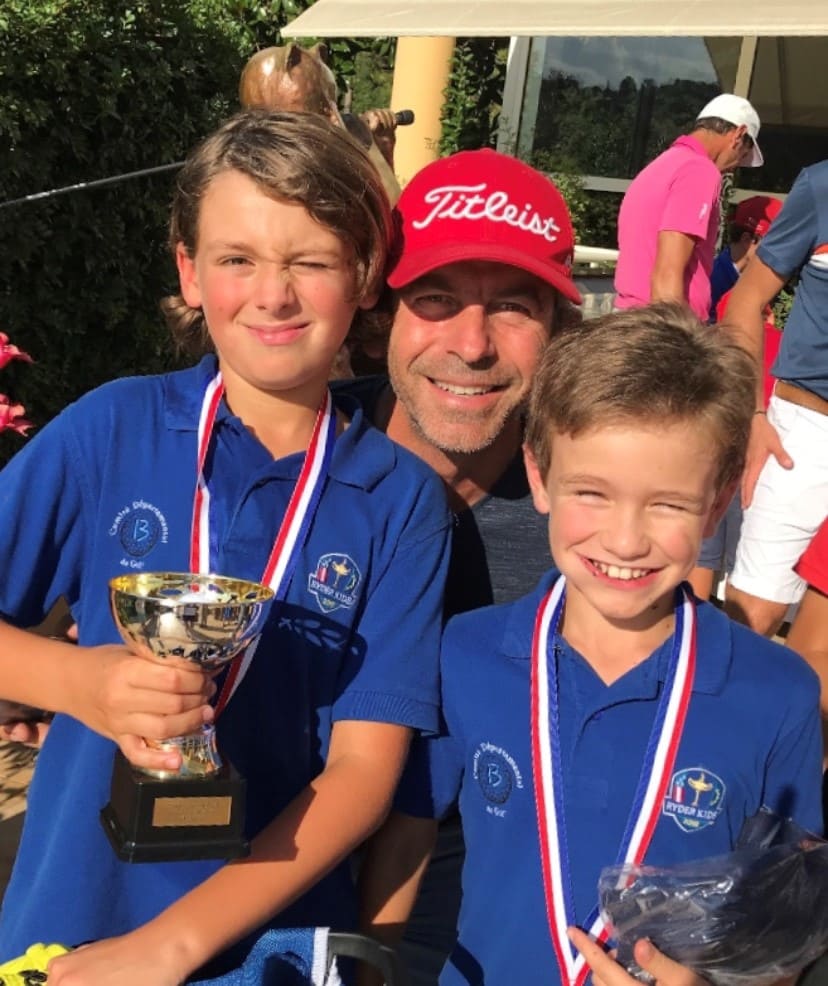 Golf clinic for children and juniors during the school holidays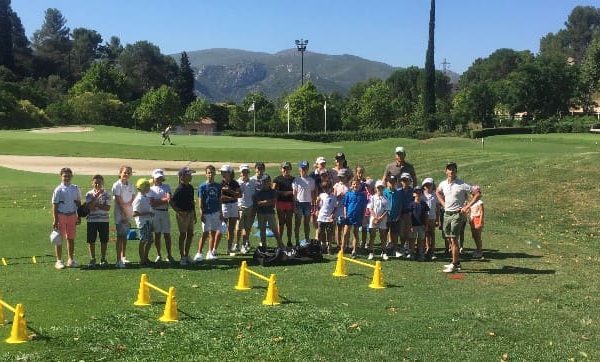 Every school holiday the instructors run golf clinics for children and juniors, suitable for beginners and high-level players.
The clinics are held from Monday to Friday, 10.30 am to 3.00 pm.
Price: €155 per week
Equipment provided, meals not included

You can consult each instructor's timetable and register at reception.